Engagement Rings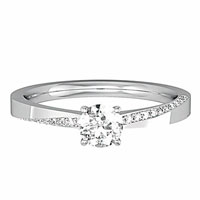 Our extensive range of engagement rings includes new and second-hand designs, weather you are looking for the classic single stone ring, three stone, cluster ring or a handmade bespoke piece Our team of experienced jewellers with onsite craftsman at EH Warford Jewellers will help you find the perfect engagement ring.
An engagement ring is a ring indicating that the person wearing it is engaged to be married. Engagement rings, like any other kind of jewelry, come in many different styles.
Gold and platinum are preferred for engagement rings, but common metal types such as titanium, silver, and stainless steel are also used for engagement rings. This allows for the bride-to-be to exert her own individual style into the ring in a simple manner.
Diamonds have been widely featured in engagement rings since the middle of the 20th century solitaire rings have one single diamond.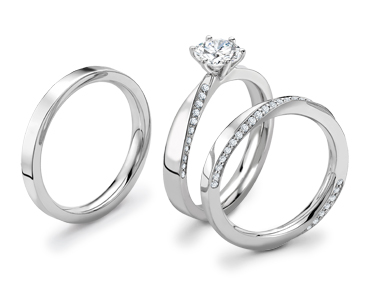 The modern favorite cut for an engagement ring is the brilliant cut, which provides the maximum amount of sparkle to the gemstone.
The traditional engagement rings may have different prong settings and bands. Another major category is engagement rings with side stones. Rings with a larger diamond set in the middle and smaller diamonds on the side fit under this category.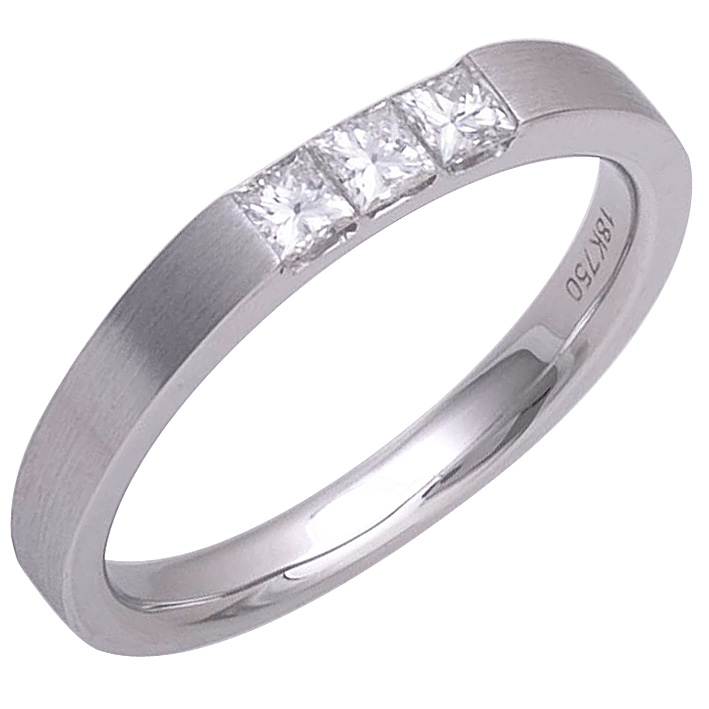 Three-stone diamond engagement rings, sometimes called trinity rings or trilogy rings, are rings with three matching diamonds set horizontally in a row with the bigger stone placed in the center. The three diamonds on the ring are typically said to represent the couple's past, present, and future, but other people give religious significance to the arrangement.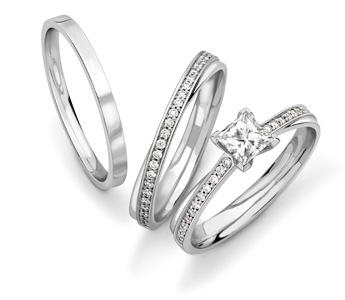 A wedding set, or bridal set, includes an engagement ring and a wedding band that matches and can be bought as a set. In some cases, the wedding ring looks "incomplete"; it is only when the two halves, engagement and wedding, are assembled that the ring looks whole. In other cases, a wedding set consists of two rings that match stylistically and are worn stacked, although either piece would look appropriate as a separate ring. Although the wedding band is not to be worn until the wedding day, the two rings are usually sold together as a wedding set. After the wedding, the bride may choose to have the two pieces welded together, to increase convenience and reduce the likelihood of losing one of the rings. A trio ring set includes a ladies engagement ring, ladies wedding band and a men's wedding band.